Another Happy Customer!
I am an independent automotive diagnostic, restoration and repair technician, and have never been more satisfied with an online parts distributor. They have the most extensive catalog of parts, the best prices, and the most accurate service and shipping I have encountered. 5 out of 5 stars. Thanks RockAuto!
Aaron in Arizona
---

Upcoming Events
Need goody bag items and a gift certificate for your show? RockAuto can help! Email marketing@rockauto.com for more information.
24
23rd East Coast Bronco Roundup
Pine Grove, PA
June
25
33rd Mid-Atlantic Chevelle Show
North East, MD
June
26
22nd Camaro Nationals
Frederick, MD
June
26
Summer Miles for Children's Smiles
Saint Paul, MN
June
26
Connorís Car Show
Keller, TX
June
26
Veterans Center 7th Annual Classic Car Show
Marina, CA
June
26
Steamboat Days Show Your Ride
Winona, MN
June
26
Kruz-In Car Show
Eagle, ID
June
26
8th Annual Make-A-Wish/Cruisers for a Cure Car Show
Port Jefferson, OH
June
26
NJJA's 1st Annual Overlanding Trip
Cherry Hill, NJ
June
26
Because Jake Lived
Holden, MA
June
26
Sweet Home Sweet Ride Charity Car Show For Kids
Sweet Home, OR
June
26
International Station Wagon Club Convention & Show
Canton, OH
June
27
Yorktown Grange Car Show
Yorktown Heights , NY
June
27
Brits By The Bay 2021
Hydes, MD
June
27
Kenosha Car Club Cruise-In
Kenosha, WI
June
27
Charity Car Show for Juliana Steger
Columbia, IL
June
27
Mopars at the Park 2021
Fox Lake, IL
June
27
5th Annual Charity Car Show
Somers, NY
June
2
Star Spangled Heights Car Show
Huber Heights, OH
July
2
Ohio Jeep Fest
Chillicothe, OH
July
3
Heykoop Veteran Memorial Car Show
Muskegon, MI
July
3
Madd Mayor Car Show
Blackwater, MO
July
3
Buffalo Days Car Show
Buffalo, IA
July
4
Schools Out Bash
Cedartown, GA
July
4
Eric Ohnemus Memorial Car Show
Milo, IA
July
4
Show & Shine at the Park
Fleetwood, PA
July
4
4th of July Car Show
Lakehurst, NJ
July
4
Gateway Area Community Center 4th of July Car Show
Clinton, IA
July
Broken mirror glass? Fix it with Burco mirror glass from RockAuto! Burco offers a complete line of Outside Mirror Glass for over 24,000 cars and trucks, including glass only replacements in their Redi Cuts line, and complete glass with backing plates in their Redi-Set-Go line.
All Burco products are manufactured in the USA. Burco offers video and PDF instructions (found on the Info pages) for replacements that are specific to the mounting type, making installation a snap. Find the Burco Outside Mirror Glass you need for your vehicle in the "Body & Lamp Assembly" category of the RockAuto.com catalog.
CamaroZ28.com is an online community dedicated to all Chevrolet Camaros. Discuss everything Camaro; from V6 to LS7, brakes to interior, first generation all the way up to current Camaros, this forum is organized into easy to navigate categories. If you drive and maintain a Camaro you will find useful information here.
If you are the administrator or member of a forum and you would like to see your website featured in an upcoming newsletter and receive a discount code to share with your members, contact marketing@rockauto.com.
In college decades ago, a buddy let me drive his 1st generation RX-7, and I knew then that a Mazda like his would be my first "real" car. I found a well-kept and nearly blemish-free RX-7 and handed over a significant chunk of my meager savings. I preened over that car, and one day over a long weekend at my parents' house, I set out for a full day of driveway detailing including door jambs, drip rails, engine compartment, everywhere. For extra credit, I even washed and waxed the big blue air cleaner cover that umbrella'd the pony-keg shaped Wankel engine. Finally satisfied with the work, I unpropped the hood and let it fall closed — but the hood did not quite latch. I raised and let it drop again; then again, this time from a little higher.
Hmm, why would the hood latch not close? Maybe the hood latch receiver somehow closed during the servicing? Nope, it looked "open" and ready to receive the catch. Maybe the latch was not closing over the hood catch, but that would not explain the gap between the hood and front fender.
After opening the hood once again, the culprit revealed itself: my can of paste wax resting on the air cleaner. After removing the can of wax the hood closed easily with its familiar "thunk." But now four tightly-grouped convex dents dimpled the center of what was, only moments ago, a pristine hood.
That day of personal infamy still serves as a reminder that even doing something as simple as a good cleaning warrants a thorough post-job inspection of both the car and the work area.
Rob in Washington
Tell us about your most infamous auto repair blunder or unconventional fix. Use your woe to help others avoid similar mistakes or share off-the-wall solutions that worked (at least for a while!). Please email your story to flamur@rockauto.com. Include your mailing address and if you would like a RockAuto T-Shirt (please let us know your shirt size) or Hat if we publish your story. See the T-Shirts and Hats under Tools & Universal Parts in the RockAuto catalog. The story will be credited using only your first name and your vague geographic location (state, province, country, continent, etc.) so you can remain semi-anonymous!
Starting with which model year were center high mount stop lamps (CHMSL) required on new cars in the US and Canada?

A. 1981
B. 1984
C. 1986
Since the 1960s, the Positive Crankcase Ventilation (PCV) Valve has kept clean air flowing into the crankcase while venting fumes and excess pressure into the engine's air intake; protecting both the engine and the environment. A clogged or leaking PCV valve causes oil leaks, oil consumption and/or oil smell. PCV valves should be replaced before they wear out according to the vehicle manufacturer's recommended maintenance schedule. The same symptoms (oil leaks, consumption, smell) can also be caused by a bad Oil Separator; a part on newer engines that you may not be aware of.
PCV system designs have always tried to keep excessive oil laden vapors and splatter from reaching the PCV valve where it might pass into the intake. Old engines might just have a plate mounted below the PCV valve opening in the valve cover that acts as a simple baffle. On many newer engines, more complex baffles on the inside of the valve cover collect oil droplets before they can reach the PCV valve opening. Some modern engines, especially European brands and European-influenced engine designs (e.g. Jeep 2.0L) have a separate part called an Oil Separator to keep excessive oil away from the PCV valve.
Keeping the oil in the crankcase and out of the intake is both more difficult and more important now. Newer engines may have lower friction piston rings to increase fuel economy. That allows more blow-by from the combustion chamber into the crankcase; increasing the pressure and volume of gasoline fumes, water vapor, etc. that must be expelled through the PCV system.
Oil that escapes with the fumes into the intake may lead to significant oil consumption and troublesome sludge/carbon deposits. Today's gasoline direct injection (GDI) engines are especially vulnerable to carbon deposits on the backside of intake valves because gasoline may not be able to wash it off. Increasingly common turbochargers/intercoolers can be clogged by oily sludge as well.
Oil Separators may appear to be nothing more than passive plumbing, but a lot of thought went into designing the plastic boxes, baffles, tubes, etc. so that oil residue has time to fall out of the PCV vapor stream and has a path to drain back into the oil pan. There may be open space so gas pressures can drop. There may be sharp bends so the oil residue can hit and run down a wall. The Oil Separator for the BMW 3.0L L6 (see photo) is a good example of complex twists and turns.
There is usually nothing high-tech about the way Oil Separators fail. Heat, vibration and oil exposure can cause gaskets to leak, plastic housings to crack and hoses to disintegrate; resulting in oil consumption, leaks and/or smells. The difficulty of replacing an Oil Separator varies a lot between engines; depending on how many other parts must be removed to gain access to the mounting bolts and hose clamps. See Oil Separators and Positive Crankcase Ventilation Valves for specific vehicles under "Exhaust & Emission" in the RockAuto.com catalog. Valve Covers (that on some engines includes plumbing that acts as an oil separator) can be found under "Engine."
Tom Taylor,
RockAuto.com
To read more of Toms articles, click this link and choose from story titles on the Newsletter Archives page.
This is my 1972 AMC Javelin SST 401 that I have owned since 2002. I recently finished a complete nut and bolt restoration spanning over 18 years. That's right, not a typo! I completed the restoration myself little by little (except for body and paint) even during multiple job transfers and relocations. The Javelin is part of our family and has been with us every step of the way! Purchased as a "garage find" with low miles but in rough shape, I managed to slowly restore the Javelin to the show car quality it deserves. I have always been fond of AMC vehicles having grown up with multiple models in my family. This Javelin has the 401 cu. in. four-barrel engine with an automatic 727 three-speed transmission and Twin Grip 3.54:1 gear ratio. AMC Trans Am Red adorns the exterior while the interior sports the rare Pierre Cardin design package.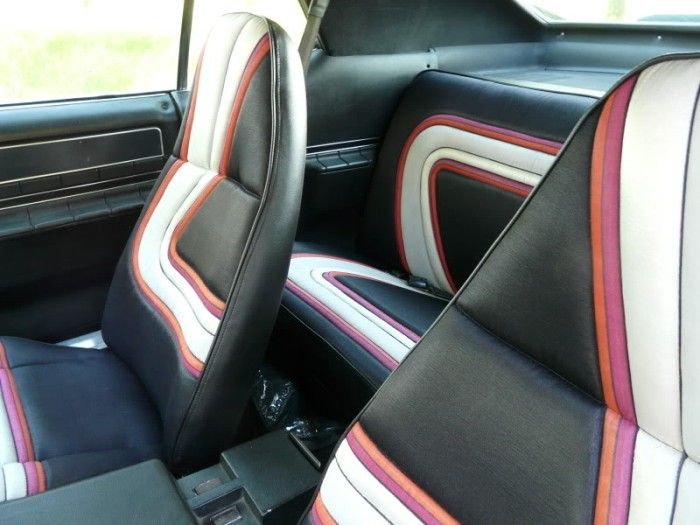 AMC Pierre Cardin Interior
Although many items are somewhat difficult to find for these cars, I was absolutely impressed with how many replacement parts RockAuto offered for my Javelin. From engine to suspension, I was able to easily find and order a multitude of parts such as belts, filters, gaskets, shocks, suspension bushings and various rebuild kits to get this rare car back on the road. Thanks to RockAuto, my dream of restoring this AMC to showroom condition became a reality!
Jason in Virginia (RockAuto customer for over seven years)
Share Your Hard Work
Do you purchase parts from RockAuto? If so, RockAuto would like to give you the opportunity to have your car or truck possibly featured in one (or occasionally more) of our publications such as the monthly newsletter, collector magnets, RockAuto social media or other commercial use. New, old, import, domestic, daily driver, trailer queen, classic, antique, we want to see them all! Please email flamur@RockAuto.com with the vehicle history, interesting details, your favorite images (tips for taking pictures of your car) and what parts from RockAuto you have used.
Starting with which model year were center high mount stop lamps (CHMSL) required on new cars in the US and Canada?

A. 1981
B. 1984
Answer: C. 1986 (CHMSLs required on cars in 1986 and light trucks in 1994)