Another Happy Customer!
Excellent web site, shipping and fast delivery!

You saved another car from the scrap yard when everyone else said there were no parts available. Saw your ad in a magazine and was totally blown away by the availability of parts, fast service and excellent prices.
Corrie in Canada
---

Upcoming Events
Need goody bag items and a gift certificate for your show? RockAuto can help! Email marketing@rockauto.com for more information.
14
Miatas at Back of the Dragon 5
Wytheville, VA
Oct
14
Texas MG Register Fall Gathering of the Faithful
Palestine, TX
Oct
15
Corvette Weekend
Ocean City, MD
Oct
15
Vairs in the Valley
Maggie Valley, NC
Oct
16
Tucson Rotary Classic Car Show
Tucson, AZ
Oct
16
Howl-O-Ween Trunk or Treat Car Show
Citrus Heights, CA
Oct
16
Low Down in Dub Town
Hazel Green, AL
Oct
16
Krawling for K9s
Tremont, PA
Oct
16
Westlake Classic Car Show
Westlake, TX
Oct
16
Carthage Maple Leaf Car Show
Carthage, MO
Oct
16
Candy Cane Classic Car Show
Minco, OK
Oct
16
24th Annual Jeeptoberfest
Williston, FL
Oct
17
All British Motor Show
Danville, CA
Oct
17
Dam Fine Car Show 2021
New Braunfels, TX
Oct
20
Run to the Sun
Lake Havasu City, AZ
Oct
23
Lost In The 50's Car Show
Grovetown, GA
Oct
23
SABCC British Car Festival
Fairhope, AL
Oct
23
Scarecrow Cruise & Car Show
Madison, MS
Oct
23
Harvest Festival & Car Show
Sugar Land, TX
Oct
23
Annual Antique & Classic Car Show
Huntsville, AL
Oct
23
Oasis Radio Car Show
Glendale, AZ
Oct
23
Wewoka Sorghum Festival Car Show
Wewoka, OK
Oct
24
Marine Veterans Toys for Tots Car Show
Audubon , PA
Oct
24
Motorama Car Show & Crafts and Flea Market
North Haledon, NJ
Oct
30
VFW 9265 1st Annual Car Show
Oklahoma City, OK
Oct
30
Palm Springs Air Museum Charity Car Show
Palm Springs, CA
Oct
Take advantage of current promotions and manufacturer rebates
at RockAuto!
Rebates Ending October 31, 2021:
10% off instant rebate exclusively for RockAuto customers on the entire line of WJB Wheel Hubs, Bearings, Seals and Water Pumps. Take advantage of this 10% instant manufacturer rebate by simply adding a qualifying part to your cart!
Up to $30 rebate on Power Stop performance upgrade Rotor & Brake Pad Kits and Caliper, Rotor & Brake Pad kits! Kits feature custom-matched components designed for specific vehicles, providing increased braking performance coupled with the convenience of straightforward bolt-on installation.
Rebates Ending November 30, 2021:
$25 rebate when you restore your truck, SUV, crossover or van's ride, handling and braking with four new KYB Shocks and/or Struts!
Up to $300 rebate on Mobil Delvac oil for hard working diesel engines!
Up to $48 rebate on ACDelco iridium, platinum and/or copper Spark Plugs!
$25 rebate on AMS Automotive Clutch System Kits; designed to completely restore the clutch system on your specific car or truck!
To see rebate details, go to the Promotions & Rebates page. While shopping, watch for the yellow "Promotion/Rebate"
next to the part listings to save even more on RockAuto's already reliably low prices!

If you are the administrator or member of a forum and you would like to see your website featured in an upcoming newsletter and receive a discount code to share with your members, contact marketing@rockauto.com.
Back in the 1970's, my partner and I ran a two bay gas station. A customer came in with a VW Beetle, with gas tank under the front hood, complaining of intermittent engine stalling. With a full tank, the car ran fine, but when the fuel level was below ¼ tank (he had to guess as those cars had no fuel gauge), the engine would stall. He would wait a couple minutes, the motor would start and run fine for a while, then stall again. We replaced all the normal items like points, plugs, condenser; checked and tested the distributor, timing, fuel pump, carburetor, hose, etc. The problem persisted. Finally we drained and removed the gas tank, turned it upside down, and out fell a fibrous seal from the cap of a bottle of fuel additive the owner had recently added!
Tell us about your most infamous auto repair blunder or unconventional fix. Use your woe to help others avoid similar mistakes or share off-the-wall solutions that worked (at least for a while!). Please email your story to flamur@rockauto.com. Include your mailing address and if you would like a RockAuto T-Shirt (please let us know your shirt size) or Hat if we publish your story. See the T-Shirts and Hats under Tools & Universal Parts in the RockAuto catalog. The story will be credited using only your first name and your vague geographic location (state, province, country, continent, etc.) so you can remain semi-anonymous!
What was a common heating system used on cars built 100 years ago?
I have caught myself thinking, "Why did that heater core fail again so soon?" and then discover the heater core was actually last replaced 10+ years ago. (I avoid losing track of time by using my RockAuto account to see when parts were last ordered/replaced. To create an account, go to upper right corner of the RockAuto home page or look under "Menu" on a phone.)
Electrolysis is the likely culprit when "fail again so soon" is for real, and new heater cores/radiators quickly start leaking. Electrolysis eats away metal in the cooling system and the relatively thin walls of heater cores and radiators are the first to fail. There are two primary causes for electrolysis; acidic coolant and bad grounds. An inexpensive multimeter can be used to diagnose both.
Below are some general diagnosis tips/techniques. Visible dark spots on the exterior surface or the heater core/radiator can be another sign of electrolysis. Consult your vehicle's repair manual (found under "Literature" in the RockAuto.com catalog) and/or seek the advice of your spouse, mechanic, attorney, etc. for more specific instructions.
Typical Multimeter, Radiator & Heater Core
Acidic Coolant:
Old coolant can become so acidic that it begins conducting electricity and moving metal like the acid in a car battery. Take the radiator cap off the cold radiator (so no pressure builds). Start the engine and allow it to warm up enough for the thermostat to open and coolant to begin circulating through the cooling system.
Switch the multimeter to one of its lowest DC voltage settings. Stick one electrical probe in the coolant and put the other probe on the negative battery terminal. A reading of 0.4 volts or above indicates electrolysis is likely happening.
Loose, Missing or Corroded Electrical Grounds:
Now with the engine off and the battery disconnected, again stick one electrical probe in the coolant and put the other probe on a metal engine part (ground). If the voltage is still 0.4 volts or higher with the battery disconnected then old acidic coolant is indeed the culprit and should be flushed and replaced.
However, if the voltage reading is 0.00 with the battery disconnected, then there is a bad ground somewhere in the electrical system. Corrosive electrical current is being misdirected through the cooling system.
Solutions:
Acidic coolant should be flushed out of the cooling system and replaced with the correct new coolant (find Coolant/Antifreeze under "Cooling System" at RockAuto.com). It is often good to flush the system more than once to thoroughly remove as much old coolant as possible.
To track down bad grounds, try measuring the coolant's voltage while turning electrical accessories on and off one at a time. A change in the coolant's voltage reading may indicate the accessory (radio, fog lights, etc.) needs its grounding point cleaned, replaced or relocated.
Tom Taylor,
RockAuto.com
To read more of Tom's articles, click this link and choose from story titles on the Newsletter Archives page.
In October 2019, I got this Buick Reatta which ran but was in need of some TLC. I am a huge Buick fan but had never heard of the Reatta, so when I came across one, I had to have one of my own. I wanted to find an inexpensive example that had some problems I could fix myself, and was not a museum piece so I would not feel bad about driving it frequently (which I now do). This one fit the bill perfectly.
I have since repaired most of those issues with parts from RockAuto. Some of the parts include an alternator, wheel bearings, intake manifold gasket set, oil pan and transmission pan gasket and filter, camshaft position sensor and I am pretty sure plenty of other odds and ends.
Thank You!
Philip in South Carolina (RockAuto customer for over three years)
Share Your Hard Work
Do you purchase parts from RockAuto? If so, RockAuto would like to give you the opportunity to have your car or truck possibly featured in one (or occasionally more) of our publications such as the monthly newsletter, collector magnets, RockAuto social media or other commercial use. New, old, import, domestic, daily driver, trailer queen, classic, antique, we want to see them all! For submission instructions and tips for taking pictures of your car, please visit our Photography Tips & Submission Info page
What was a common heating system used on cars built 100 years ago?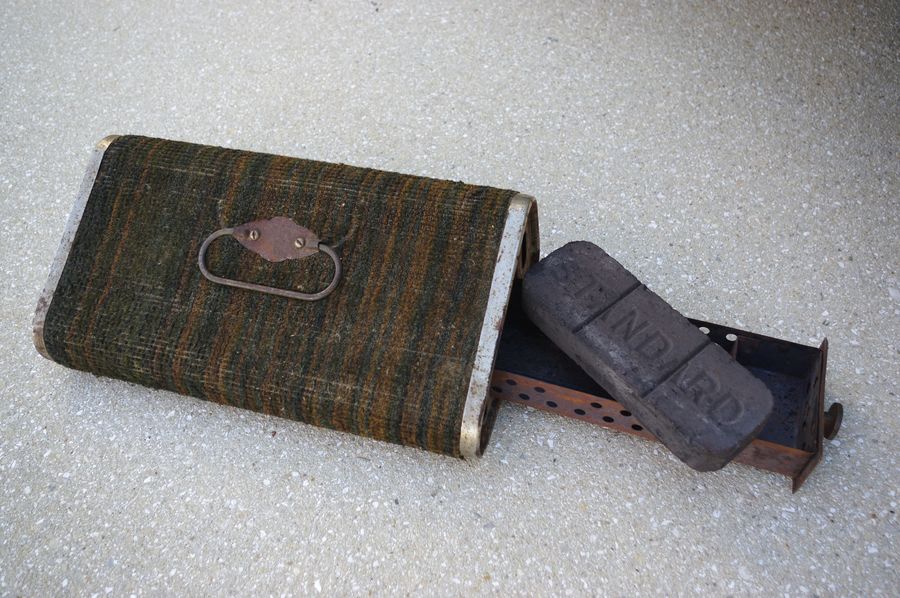 C. Electrical current was routed through a large heating element (resistor) located under the dash. Some generators could not generate enough current to power both the headlights and electric heater at the same time.

D. All the above
Back up to trivia question